02 March 2023
P.R. Jenkins
Karajan artists: Jess Thomas – the "more than six feet Siegfried"
The American singer Jess Thomas (1927 – 1993) was a true "heldentenor", admired for his Lohengrin, Florestan, Parsifal and for the parts he worked on with Karajan: Siegfried and the Emperor in "Die Frau ohne Schatten".
"Karajan is certainly the most important musical personality of our time."

Jess Thomas
Thomas studied psychology in Stanford and started to work as a high school guidance counselor before he decided to change his profession and become a singer. In the 1960s, he had constantly increasing success in the major opera houses all over the world. In 1964, for "Die Frau ohne Schatten", he had his debut at the Vienna State Opera and worked with Karajan for the first time. The production was a tremendous success and for many opera lovers Thomas' interpretation of the Emperor is unsurpassed. In 1969, Karajan and Thomas achieved another highlight in their collaboration by performing and recording Wagner's "Siegfried" with Thomas in the title role. Like "Rheingold" and "The Valkyrie", the third part of Wagner's "Ring" should have been performed at the Metropolitan Opera New York under Karajan's baton in the same year. But the Met was "crippled by one of the most damaging labour disputes in its history (Richard Osborne)" and the "Siegfried" transfer failed. What was it the New Yorkers were missing? Karajan on the rostrum. The Salzburg staging was presented in 1972. From Karajan's studio recording cast Jess Thomas, Thomas Stewart and Gerhard Stolze remained. The conductor was Erich Leinsdorf.
In 1970, Karajan and Thomas met for the last time for a single "Götterdämmerung" in Salzburg – again with Thomas as Siegfried. He also appeared in Karajan's film version of Beethoven's Ninth in 1968.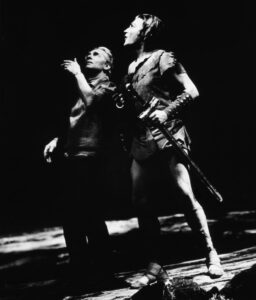 For the "Siegfried" staging, Karajan and his costume designer George Wakhevitch had selected a wig for Siegfried which Jess Thomas hated, although he was very fond of the rest of the costume. To get rid of the wig, Thomas said casually: "I had a similar wig at the Met and the critics said I looked like Birgit Nilsson…" (Thomas knew that Karajan was currently on bad terms with Nilsson!) Karajan cringed and said: "You know, Thomas, we really have to do something about that wig!"
We've prepared playlists with Karajan and Jess Thomas. Listen to them here.

— P.R. Jenkins
Jess Thomas: "Kein Schwert verhieß mir der Vater" Paul Neff Verlag KG, Wien. 1986